PIZZA, PASTA, A CHEF'S BOARD, AND HAPPINESS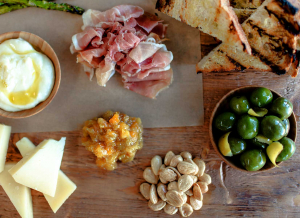 Summerlin continues to attract top notch restaurants that are minutes away from so many of us.  It is rare for the majority of us out here in the suburbs to actually make the trek to the Strip for a meal, although the options are endless and top notch.  We love North for so many reasons.  The food is fresh, savory, with tons of options and the ambiance is top notch.  Plenty of seating that is comfortable, beautifully designed, and makes you want to linger. The space is light, bright, and hip.  Tall white wood paneled walls with black iron accents, huge glass light fixtures, and wood floors.  The smell of the wood fired pizza ovens fills the air.  Young and older, dating, and families, are regulars at this restaurant.  My favorite is the Chef's Board filled with fresh veggies, bread, almonds, a variety of cheeses, and olives.  The kids love all of the fresh, wood fired pizzas, and the husband has an affection for the fresh pasta.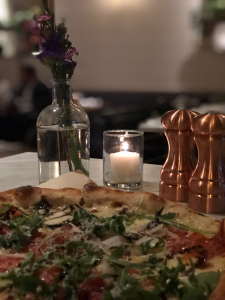 The happy hour pizza earlier this week.  Creamy garlic sauce, with spiced sausage, fresh greens, red onion, and gorgonzola sprinkles.  Old or young, Frank Sinatra and Italian food go together like magic.  Take a listen below and head to North.